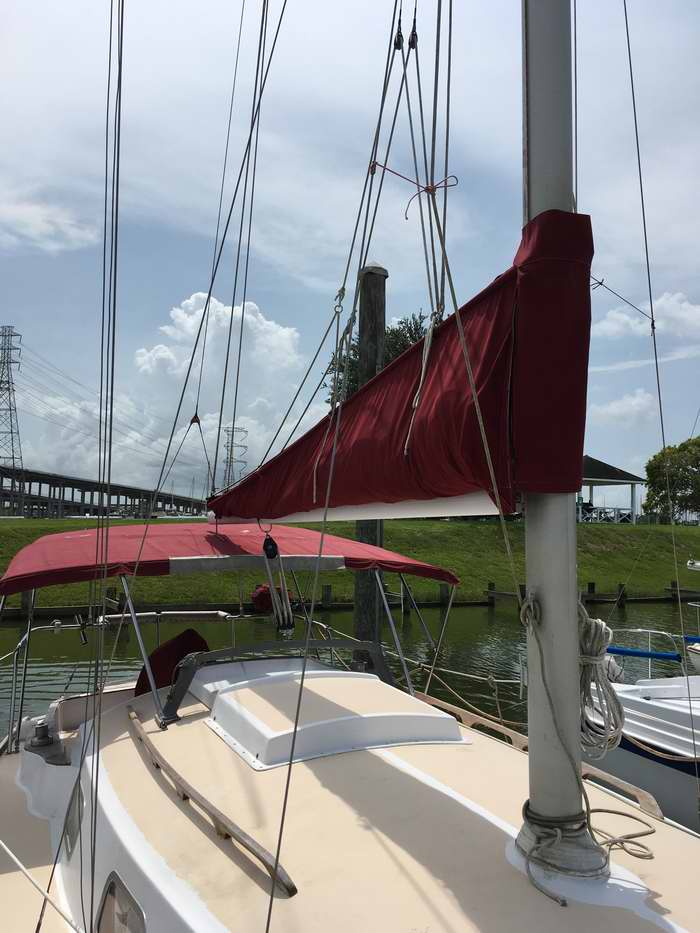 STACK PACK - A stack pack is an improvement on the mainsail cover since all you have to do is pull the zipper along the top to expose the mainsail for hoisting. This speeds deployment and more important, speeds dousing for inclement weather. If its quick and easy to do you are more likely to cover the sail to protect it. The covers stays on the side of the boom while sailing so you don't have to pack it away.
Sloppy stack packs flop in the breeze, which can be annoying while sailing. The better designed stack pack can be pulled tight against the boom so it doesn't flop around when sailing.
The lazy jacks typically hold up each side of the stack pack with the assistance of a PVC rod through the hem along the top. This makes catching the mainsail slick and pulling the zipper along the top easy. The downward slope to the end of the boom sheds rain, albeit into the cockpit.
Closing the front was problematic with the early versions as they would catch wind. Experimenting with different techniques has solved this problem with designs that wrap around the mast as shown in the example at right. Other designs tuck it on the mast. The wrap is usually tucked inside one side for sailing. On some designs it is removed.
This one looks like a Sailrite design.