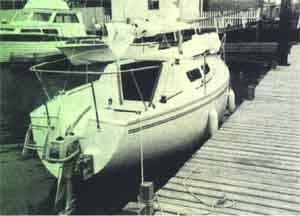 INTRODUCTION: Our visit to the 1986 Small Boat Show in Newport, Rhode Island, was a real businessmanís holiday. Several small cruising boats were invited for sea trials and we spent the whole weekend sailing the following five boats:
A Starwind 223, Sirius 22, San Juan 23, Tanzer 22, and a Merit 22.
All are of a size and cost that will appeal to a first-time buyer.
All are trailerable.
Two have centerboards, two have swing keels, one has a lifting keel.
They all have accommodations for weekend cruising.
They all have lines that suggest the potential for reasonably quick performance.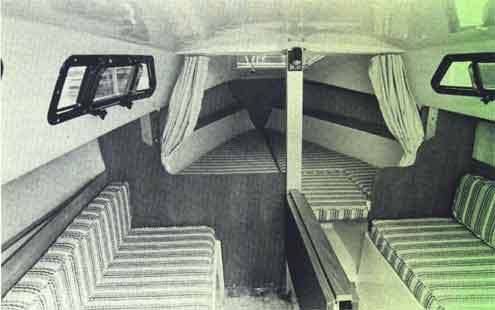 It became quite clear that each boat has a distinct personality, reflected in the type of compromises each designer and builder made within the confines of a 22 to 23 foot hull. Thomas Baker and I, technical editor for Soundings, examined and sailed these boats while keeping in mind what you might want to know. Between us we had a total of 54 years of sailing experience. Our expert builder, Ken Steinmetz of Kenís Boat Shop in Seaford, New York, scrutinized every detail of hull construction. The weekend brought good sailing weather with 8-15 knot breeze, a moderate chop, and just enough fog to keep things interesting.
REVIEW: The San Juan 23 is a cruising design derived from Bruce Kirbyís successful racer, the San Juan 24.
While the San Juanís modified ďblisterĒ house that looks so sleek on larger racers loses some of its style when placed on a short, high-sided hull, it does provide plenty of room below. A simple, open layout is enlarged visually with the use of partial bulkheads as shown above. For a 23 footer, the teak-trimmed galley is large and easily worked, but its athwart ship location beneath the companionway means you must be careful lest the crew step on your supper. A folding table mounted on the centerboard trunk adds a nice, functional touch. The berths (aft) extend well into the main cabin. No coffin quarter berths here. The settee backs are too far outboard (or the house sides too far inboard) for a sailor of normal height to sit against without slouching or hitting their head. This is a common problem aboard most of the boats we sailed. Only the Tanzer and Merit avoid it with their raised-deck construction. As in the Sirius, this San Juan cabin sole is carpeted.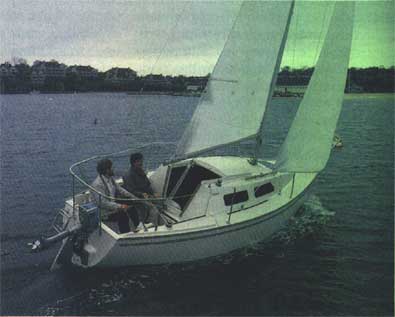 The SJ23 cockpit is on the small side for more than three sailors (thatís where some of the cabin room comes from), but with its carefully angled, 14" deep backrests, itís most comfortable. The San Juan was the only boat in the trials equipped with a traveller, a joy for those who take sail trim seriously. Located on the bridge deck it is handy for the helmsman, but does cut into the accessibility of the companionway.
The trip forward is comparable to that on the other boats we sailed; the shrouds get in the way, but the foredeck is easily worked. Like the Starwind and Sirius, an anchor locker is molded into the foredeck. (Later MKI & MK II versions only). The lifeline stanchions are probably strong enough, but the posts fit loosely into the bases and lack the secure feel of an all-welded system. Steinmetz considered the two 5" mooring cleats at the bow much too small. The two 6" cleats at the bow he felt would be barely adequate. The legitimate chocks did make him happy. Good, chafe-reducing chocks are becoming distressingly rare items on small production boats. Like the Starwind, the San Juan features a swim ladder on its transom.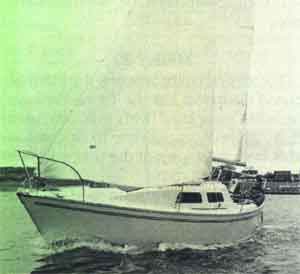 This should not be regarded as a luxury item. On a high sided boat, it is very useful in the event someone needs to be rescued.
The San Juan is responsive to its helm and sail controls, and beginning sailors will learn their lessons quickly. With its racing heritage, the 23 begs for just a few go-fasts, perhaps a spinnaker or genoa or two. Good deck space and slotted toe rails should make adding the necessary hardware fairly easy.
San Juan combines chop and roving in amounts sufficient to produce a stiff hull. Balsa core adds additional stiffness to the deck lay-up without a weight penalty. Exterior molded surfaces are smooth, fair, and uniform in finish and color. Some interior panels showed minor fabric print-through, but not enough to be objectionable. The 23 carries its 900 pounds of lead ballast in a fiberglass stub-keel. The 65-pound galvanized steel centerboard is easily handled by block-and- tackle in the cabin.
NOTE: The above comments are reflective of the later version MKI SJ23. The windows shown above are not standard. The standard windows are permanently closed. Bob Schimmel.

HOW MUCH DID a 1982 San Juan 23 COST? While dealer mark-ups varied slightly depending on seasonal incentives, the 1983 boats retailed at $12,795.00 FOB plus (in my case) $3964.22 in freight charges from Auburn, WA to the Buffalo NY Area*. The sail inventory was not included in the price, which was another $425.00 for a racing main ($390.00 for a cruising main), $280/$258 for the jib, $360.00 for the 153% Genoa and $460.00 for the spinnaker. Of course VHF radio, instrumentation, compass, outboard and mount, boarding ladder and safety equipment were extra as well.
(*Source: Clark Sails Price Sheet, "Effective April 15, 1982"). It would easily have been possible to have $20-21,000 tied up in the boat when it went into the water initially--another $1200-$1500 if you added a new trailer to the deal.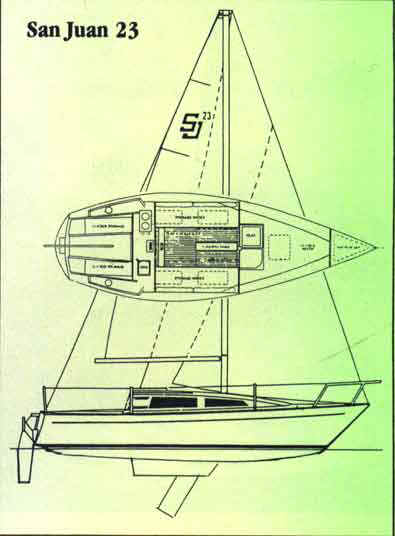 OFFSHORE CAPABILITY - Several club members have set their eyes on the Bahamas and asked my opinion on the offshore capabilities of an SJ23. I realize this passage is very tempting because it is only a two day jaunt across open water to some very tropical climate. Several SJ23s have made the crossing, which is pretty good performance when you compare it to some long lake passages that many sailors have made. While I do all my modifications to Panache to literally prepare her for "WWIII" or a long passage like this, in my view point she is still not an offshore boat. Here are some of my thoughts;
The sliding hatch on the companionway is not sealed well enough and the acrylic forward hatch is not strong enough to withstand solid water crashing on the deck.
In rough weather the cockpit lockers and the companionway drop boards should remain latched at all times in case the boat gets pooped. One wave over the transom and the hull will be full.
The anchor locker bulkhead must be totally sealed to the cabin to prevent water from entering the hull and so should the cockpit hatches.
All items inside (galley, head, water tank, gas tank, battery, etc.) must be fastened to the floor strong enough that they stay put if the boat is heeled to 900 or more. I doubt that the hull can survive a roll to1300.
If you have any through hull fittings, they must be ball valve type and reinforced with an adequate backing block. Tie a wood plug to each. The early production SJ23 cockpit drain fittings are located under the hull, just above the water line. They are very difficult to access and nearly impossible to plug.
The boat must also be equipped with adequate bilge pumps, GPS, magnetic compass, marine VHF, an EPIRB and a life raft or inflatable dinghy. Not many SJ23s are equipped for all this.
I consider the SJ23 to be a capable protected water cruiser but would not sail her to the west side of Vancouver Island in any kind of weather. One should pick a weather window and know where the hurricane holes are. It would be sporting enough to sail her through the Gulf Islands or other large body of water. It is prudent to run for shelter when a small craft warning is announced on the VHF. The tight interior may make your stay at anchor challenging during extended lousy weather, so pick a place where you can go to shore to stretch your legs. A bakery, farmers market or a pub works for me. If your boat qualifies for all the above then pick your weather, create a significant safety margin, submit a float plan, include a contingency plan and stay tuned to the weather channel. I'm sure your significant other will appreciate it if you prepay your life insurance and update your will prior to the trip! A phone call on your arrival would be nice. Bob Schimmel.

Return to Techtip Index. . . . . . . . . . . . . . . Got a Trouble or a Question?