UPDATED, 2023-09-16 *
A - TRAILER (towing & storage)
B - HULL * (structural integrity)
D - OUTBOARD * (push required)
E - ELECTRICAL * (& electronics)
F - RIGGING * (standing & running)
H - SPECS/HANDLING (lots of #s)
J - HOW TO (related techniques)
P - PROJECTS, JOBS & PHOTOS. (How others pursue their projects & those I work on)
______ Contact me _______

sailors have cruised through the San Juan 23 web site since the first Tech Tip (B01) was published May 26, 1999. Chuck started this web site a few years earlier and has since crossed the bar. From Chuck and myself, enjoy.
Tell me and I forget.
Teach me and I remember.
Involve me and I learn.
Benjamin Franklin
June 2023 - Panache was engulfed in smoke in her slip (front left). At times the opposite shore, 1/2 KM away, was totally obscured. The smoke from Alberta's forest fires extended over a lot of Canada, USA & the Atlantic. Click on image to see more.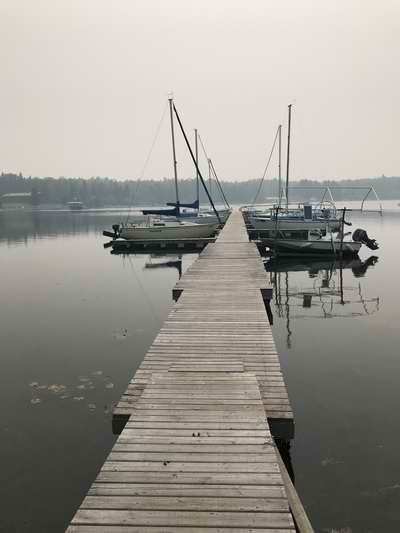 I'm waiting for updates from a busy globe traveling guy to complete Tech Tips B11a and F38.
THOUGHTS of the DAY
Life ends when you stop dreaming.
Hope ends when you stop believing.
Love ends when you stop caring &
Friendship ends when you stop sharing.
REALLY USEFUL STUFF!
_________________
Join the Distribution List
and or Skipper List
View SJ23 Google Group
(requires Google Password)
_________________
San Juan History.
SJ23s For Sale / Buy
Buying a SJ23? Then read FAQs and reviews from 1986 &,2013.
Don't worry about getting older
You're still gonna do dumb stuff,
only slower.
If its not yours, don' take it.
If its not right, don't do it.
If its not true, don't say it.
If you don't know, shut up.
(Japanese wisdom)
To deny someone a challenge is the greatest damage you can do to them.
Seek knowledge until understood,
Then act accordingly.